TL;DR: My career on computer magazines began in 1997, and led to me spending half a decade as a magazine editor. It was a golden age of PC computer journalism, now regarded as a key retro computing period. Here's my story. I hope it might be useful for those considering a career in journalism today. /TL;DR
It's the late 1990s. Winter. And its raining.
My face is illuminated in the evening darkness by the screen of an ATM, somewhere around Piccadilly in London.
The bank balance read out shows that my post-university overdraft runs to thousands of pounds.
It's been a year now since I left university.
Each week I earn a wage from working as an office temp in London. Each week I visit the ATM, view my balance, and watch as what I earn makes no difference.
Damn those luxuries like food and accommodation.
But I'm living in London. That's awesome.
Cool Britannia is here. On the day after Tony Blair takes victory in the 1997 general election, changing the country forever, I eat my sandwiches in the grounds of St Thomas' hospital. I peer at the silent House of Commons on the other side of the Thames.
The traffic cone of destiny
I watch as a bright orange traffic cone floats down the river.
I'm working at another temp job in an office in Waterloo. I've taken to visiting St Thomas' hospital to eat lunch because – well, it's not that horrible concrete office block in Waterloo. There's a lot of shops within the hospital, and a lovely garden to sit in.
While gazing at that traffic cone, I'm contemplating my future.
I'm under familial pressure to get a proper job. A career. That's a problem, because I have no idea what I want to do. Does anybody?
I've been exploring the obvious options from my room in a grotty shared flat in Stamford Hill.
I've ordered a handful of prospectuses from teacher training colleges. (Shudder.)
As my mother says, "Keir's good with computers". Always have been, since being a child. Could I work in IT? I get the Thursday Guardian with its IT jobs but, honestly, the thought makes me shudder again.
A third option is more obvious.
Since arriving in London, I've achieved my first ever payment for journalism. My article about being a male secretarial temp went into one of the freebie magazines they used to give away outside Tube stations.
I wanted to frame the cheque they gave me. But I had to cash it.
Yet where do I even start making a career out of journalism?
The computer magazine explosion
The 1990s has seen an explosion of computer magazines in the UK. Shelves are full of them in newsagents.
This is because everybody wants to get on The Information Superhighway.
Information at your fingertips! Porn! Your favourite tunes for free via Napster! Porn! No need to go to the shops to buy newspapers! And all the porn you can eat!
These magazines tell people what they need to buy, and what to do while online. (But not the porn part. They had to figure that out for themselves. And they did. Oh boy, did they do that.)
As for me, working as an office temp in that Waterloo office, I'm experiencing boredom so severe it feels like physical pain. And not being able to escape that overdraft is like being rained upon all the time, even when it's sunny.
Something has to happen.
Desperation steps in.
I visit the WH Smiths inside St Thomas' hospital. I buy literally every computer magazine. It's expensive at over £100 (and remember I have zero money!). The checkout assistant serving me probably thinks I'm the most alpha geek ever.
The magazines are incredibly heavy as I carry them back to the office.
But using the work PC in that dingy Waterloo office block, I print off letters to every single editor asking to be considered for an editorial assistant position.
Don't you know but…
It works! I get three job interviews. After a false start at a computer magazine in Bath, I end-up working at Computer Buyer magazine. This is at Dennis Publishing, on Bolsover Street in the West End.
I'm eternally grateful that unpaid internships hadn't escaped the gravity of the US corporate system back then. I got a proper job, despite having little experience. It was a first-rung, junior position. But it paid a salary of £13,000. That's around £24,000 in today's money.
I was on my journey. The overdraft started to be chipped away.
The bell curve of destiny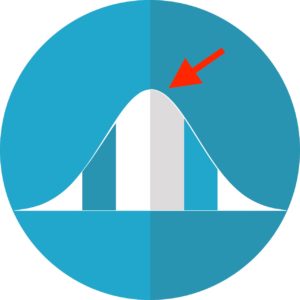 But there's a really big problem. Huge, in fact.
If the computer magazine boom of the 1990s is plotted on a graph, it would be a classic bell curve. And I entered the game just after the peak.
Not that I realised at the time.
It was still an exciting period. Much of what we now call retro PC computing was my daily life back then.
It was all about telling people which Pentium PCs to buy. I wrote group tests looking at modems, and printers. 3D gaming was in its infancy with 3DFX and TNT graphics cards. I remember the incredible excitement when the first Half Life game came out.
Basically, I got to play with new computer stuff all day – and then write about it, which I also really enjoyed doing.
This was the period when an average computer magazine cover featured parents and kids staring amazed at a computer monitor as a rainbow of colours poured forth.
Me? I was on the move pretty soon. I left my first job after just under two years, and became Reviews Editor on PC Direct at Ziff Davis. After another year and a half I jumped again, this time to take the editor role on a mobile computing magazine.
I didn't land well after this particular career jump. People had tried to warn me. I was arrogant. Dodgy people were involved in the magazine's management. I worked for a few months without a salary before the entire thing collapsed. We never published anything.
It was now the new millennium. I had been earning enough to rent a flat in London but I had no job and little money.
How to become a magazine editor
For some time I'd been thinking about returning to Manchester, where I was from, and moving out of London. The air was fresher, the people friendlier, and property cheaper.
My insurmountable problem was that the UK is unique amongst countries of the world in that 99% of the country's media industry is in once place:
London.
I was trapped there. Yet I'd heard industry talk about a computer magazine publisher near Macclesfield, which is next to Greater Manchester. The huge publisher IDG had an office there.
Remember the computer magazine bell curve I mentioned? Well, we were now slipping even faster and further down the right-hand slope.
The smart money was getting out.
I learned that IDG had already closed down their Macclesfield office. Everybody had been laid off.
Dammit.
Nonetheless, I searched on job websites.
And there it was. A publisher near Macclesfield was looking for an editor for a computer magazine. That's all it said. No details.
Was the advert left over from those IDG days?
But I applied because… What else was I going to do?
It would turn out to be the only job I applied for.
A few months later, I moved back to Manchester to stay with my sister while I started the job at a new publishing company near Macclesfield.
It was called Live Publishing. It had been created just months earlier by one of the managers from IDG, along with one of the editors who'd worked there. It was based in a tiny corner of an office in the next building along to the one IDG had once occupied.
Phoenix, flames, ashes, yada yada.
My job was to edit their flagship title.
My move back up north to live near Macclesfield was life changing in so many ways. As they got older, my parents would move to be near me, and would spend the rest of their lives in what is a lovely part of the world.
The two types of computer magazine
There were generally two types of computer magazines back then (outside of dedicated gaming titles):
Review magazines just told you what hardware and software was good. This made 100% sense, because it attracted the PC and peripheral manufacturers who wanted to advertise. These were the dominant kind of magazine.
But the how-to magazines used a different model. They only had a small amount of reviews, so they couldn't attract the same advertiser interest.
So, they cost twice as much. Sometimes more. While the reviews mags could sell 100,000s of copies, the how-to magazines sold just 20-30,000. But the profit from the increased cover-price compensated and made them more attractive when it came to shelf space in WH Smiths.
These magazines had also had a clever trick: They gave away full-priced software via a "free" CD or DVD-ROM stuck to the cover.
Although the review magazines also sometimes did this, the how-to magazines were masters of the art. If a software maker was releasing a new version of something, they'd ask for the previous version. Then they'd give it away free. And the magazine would be full of tutorials about how to use that software.
To cut a long story short, although I was asked to edit the flagship how-to title at this new Live Publishing startup, I didn't feel it was a good fit for me.
I asked if I could edit the magazine they'd already launched just a few months earlier, which had only ever intended to be a supporting effort. Thus, I picked up editing PC Utilities (PCU) from the fourth issue onwards.
It was another how-to magazine, but its cover CD came with over 500 applications on the disc. We didn't realise but this was a classic unique selling point. Weirdly, hardly anybody else would ever notice this. We had very few imitators.
I edited PCU and other magazines at Live for five and a half years. In hindsight, it was one of the most fulfilling times of my professional life.
I managed a team of staff writers, and oversaw an editorial budget. I was responsible for originating and launching some new titles too.
I was able to buy a house, and life was pretty good for a good few years.
But there was no escape from that bell curve.
For whom the bell curve tolls
It's now 2005. The PC magazine peak had occurred around 1995. We're perilously close to the baseline of the graph.
Our problem is two-fold. Everybody has a PC. And they now know how to use them. Going online has become a basic life skill nearly everybody has.
But these issues paled alongside the huge, huge problem: the internet had destroyed print publishing.
Nobody was buying magazines or newspapers when they can browse to a website and get it all for free, instantly. Advertisers were moving online.
As you might realise, there's a piquant irony here. Computer magazines like mine had been telling people how to get online. And now they'd done so, they were no longer buying my magazines.
And now, in 2005, the computer magazine publishing industry barely has a pulse.
The creation of Live Publishing in 2000 had been defiant. Brave, even. But all of us who worked there had quickly realised its existence was a continual struggle.
It grew a relatively large stable of magazines that belied the fact it was a small company. It increased in staff numbers. We had a core of somewhat oddball fans who gathered on our forums and loved whatever we did.
The company just never made money.
It tried some great and crazy ideas, including creating what has since become the long-running Retro Gamer magazine. The team launched movie magazines in one final gasp of ambition.
But so many magazines launched, and then died. People joined the company, relocated from London, and then left months later. It started to feel almost cruel to be messing people around like this.
The bills were paid by PC Utilities, the magazine I edited, and also Retro Gamer when it was launched. I think a console gaming magazine called Tip Station might've contributed too, but not consistently.
A core handful of us old-timers at Live were married to our jobs.
Often we worked into the early hours of the morning to get those magazines out of the door. At one point I was simultaneously editing three magazines across a six week cycle!
How to stop being a magazine editor
In August 2005, it all came to an end.
The owner did a switcheroo where he put Live Publishing into receivership. Then he bought some of its assets for a new company. He employed a handful of the same staff. My old magazine, PC Utilities, continued to be published, along with a few others.
The gamble didn't entirely pay off because another publisher swooped in and bought the only other profitable title: Retro Gamer.
But his new company continued for a while before, about seven years later, it too pulled into a lay-by of the publishing dual carriageway and never moved again. This was despite the valiant efforts of all concerned.
All this happened without me and many others who had worked at Live. Having been made redundant for the first time in my life in 2005, I had become a freelance writer.
Unless I moved back to London, which I didn't even consider, it would be very unlikely I would ever get a full-time job as an editor.
And even in London, traditional print journalism was beginning to look like a sucker's game. Low salaries and few senior positions meant the industry had transformed. I started to notice how everybody working on magazines was a recent graduate, largely because they were cheaper to hire.
Nonetheless, I spent a decade having fun as a freelance. I explored the nascent world of paid blogging. I self-published to amazing success. I wrote and edited textbooks, some of which were best-sellers.
I explored the cutting edge of quite a lot of new content creation concepts.
But it was a precarious way to make a living. In 2017, married and approaching middle age, I became tired of it all. I wanted a salary again. My wife and I needed certainty.
I heard within the industry that many journalists were moving over to something called content marketing, where they transferred their skills to creating top-of-funnel blogs, eBooks and videos for businesses.
This is where I would eventually end-up – as a content creator at a FTSE100 company.